Sellers set up shipping methods and fees. Buyers select the shipping method that suits them best and pay the shipping charges. Sellers may opt to offer free shipping.
Buyers
When you place an order, you can select one of the shipping methods offered. During checkout, the bidorbuy system automatically calculates what you need to pay for shipping and adds shipping fees to the amount due.
Your seller needs to send you the order tracking details, if applicable.

Tip:

Buyers are advised to check the shipping fees and the expected delivery time before placing an order or bidding.
Sellers
bidorbuy has created a shipping table to help you set up shipping charges. Once you have set up shipping charges, you will be able to reuse them in all your future listings by selecting one or more of the options from the drop-down menu. The selected shipping options will appear in your item listings, under the Shipping and Payment tab.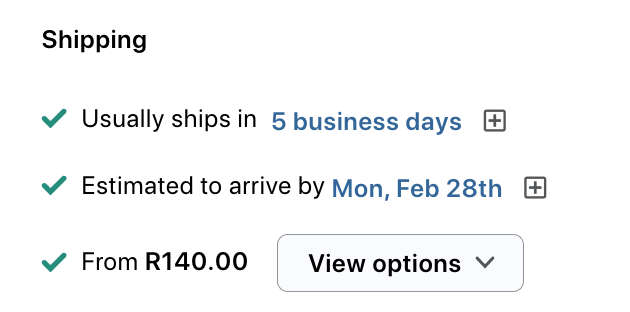 Shipping handling times
To set up your shipping charges with the bidorbuy shipping table, go to the Selling section of My bidorbuy. Find the Sales support section and click on Shipping charges.

Step 1: Create your shipping methods

Here you specify the shipping methods you offer. For example:
South Africa Post Office counter-to-counter
Courier door-to-door main centres
Courier door-to-door outlying areas
Pargo Pickup

Step 2: Create your product package type

You can base your product package type on the weight or size of the items you sell, or you can assign a package type for one or more of the items you sell. For example, your product package type may look like this:
Small
Large
Under 1kg
Between 1kg and 5kgs
Books

In the Rate to ship box, specify shipping fees for the specific product class via each of the shipping methods you created in step 1. You can also specify your shipping rate for the first item and your shipping rate for additional items within the same order.
If you leave the shipping rate box empty, that means that no rate is set for that particular shipping method and product class combination. In that case, your buyers need to contact you and ask about the shipping fees. This creates delays, so avoid leaving the shipping rate box empty, unless absolutely necessary.
If you set the shipping rate box to zero, that means that the shipping is free.

Tip:

It is to your advantage to offer free shipping on as many products as possible. Alternatively, you can specify a minimum order value that qualifies for free shipping.
You can set the insurance fee as a percentage of the total order value. If you prefer to offer a fixed rate for insurance, you need to add this amount in the corresponding shipping fee and state that the insurance is included.

Tip:

You can set up your shipping options in advance, or while creating your listing. For the latter method, click on Shipping quick create link in the Select shipping details section and follow the prompts. The shipping terms you set up in the Shipping quick create will be remembered by the system and you can reuse them the next time you list something for sale on bidorbuy.
Video

How to set up bidorbuy shipping table: