There are four main selling formats on bidorbuy: auctions, buy now, classifieds and personal offer. Sellers can also state a buy-now price on auctions and opt to accept offers from buyers.
Auction
When you list an item for auction, buyers are able to bid on your item for the duration you choose (up to a maximum of 21 days). You choose a starting price for your item and multiple buyers can bid for it (although it is not recommended for most cases, a
reserve price
can also optionally be set).
You can sell single or multiple quantities in a single listing. You may re-list your item free of charge in case it does not sell.
bidorbuy does not charge a fee for listing items on auctions. A success fee is charged only on successful sales.
Auction with buy now
When creating an auction listing, sellers can state a buy now price too. That means that buyers can choose to either place a bid, or to buy the item outright. The buy now option disappears when the auction amount reaches the buy now amount. Only auction listings with the quantity of 1 item have a buy now price option. Standard success fees apply.
Buy now
With buy nows, you sell an item at a fixed price. The buyer can buy it immediately. There is no waiting period as associated with auctions. The buyer can purchase the item without waiting for the listing to end.
Maximum listing duration is 32 days. You may relist your item free of charge in case it does not sell.
You do not pay for listing an item for sale in the buy now format. Standard success fees apply.
Make an offer
Sellers can opt to accept buyers' offers by ticking the appropriate box when creating a listing. Read more about the
Make an offer
functionality on bidorbuy. Standard success fees apply
Classifieds
The bidorbuy Classifieds section is similar to classifieds in newspapers. The seller advertises his/her product and waits for a response from prospective buyers. The classified format is advisable for items that need high involvement from the buyers and sellers, such as cars.
When you list an item in the classifieds format, buyers can instantly respond to your contact details to get in touch with you. It is then up to you two to arrange an inspection and close the deal.
The maximum duration of a classifieds listing is 32 days.
bidorbuy charges a once-off upfront listing fee for every listing in the classified section. The listing fee is payable whether the item sells or not. There is no success fee for items sold through the classifieds format.
Closed listing offers
Closed auctions listings
Once an auction has closed, a seller can offer the same item to runner up bidders. The seller sets the price. The offer is on first come - first served basis and it expires after 48 hours. Buyers may put forward a counter-offer. This functionality (formerly known as personal offers) is available only to
advanced sellers
.
Standard success fees apply.
Closed buy now listings
You might have noticed buyers adding your buy no items to their bidorbuy watchlist, but then not buying them before they close. Adding an item to their watchlist shows that they're definitely interested, but perhaps they just got busy and didn't get round to completing the purchase in time.
You can
make an offer
on closed buy now listings to any buyer who added your item to their watchlist, at the price of your choice!
How to make an offer on a closed buy now listing:
Step 1
Under Listings, click on "Make offers on closed listings"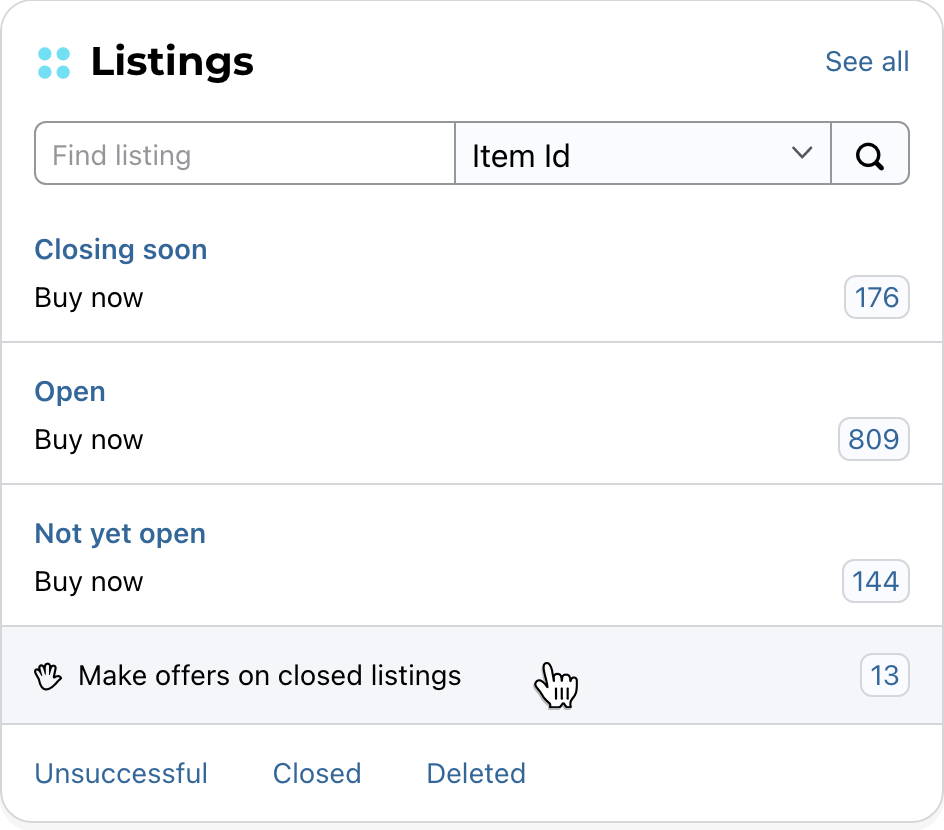 Step 2
View the available listings and click on "Make offers"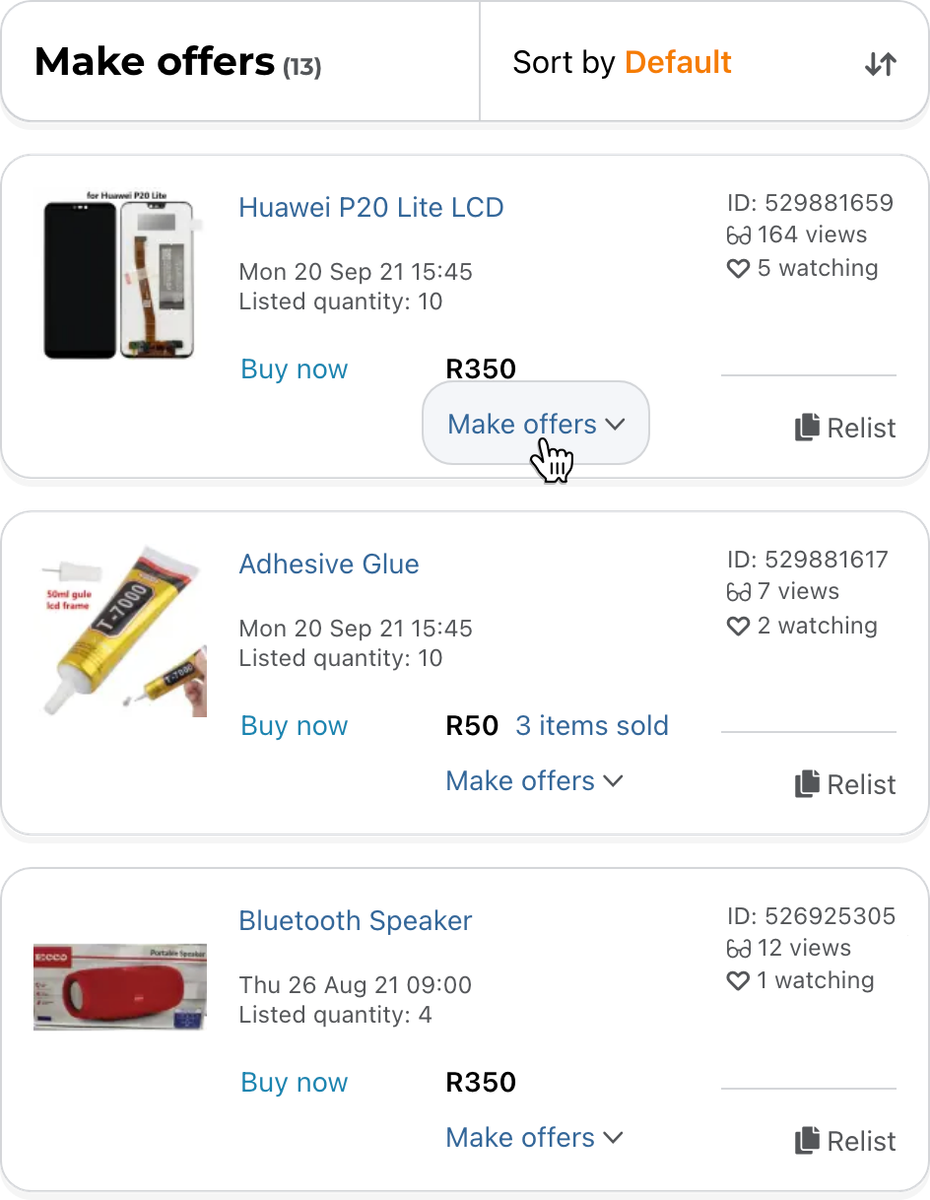 Step 3
Complete the offer and submit